Christmas Hampers!
Give the gift of Sussex's finest flavors this holiday season with our luxurious Christmas Hampers. Delight your loved ones with a carefully curated selection of local treasures, including artisanal cheeses, exquisite wines, delectable chocolates, and more. With each hamper, you're not just giving a gift; you're sharing the essence of Sussex's culinary excellence. Make their Christmas special and memorable with a token of the region's finest. Order now to spread the joy and warmth of the season through the gift of Sussex's best.
Also available for corporate clients please contact us direct to discuss your requirements.
SHOP NOW
Shop sussex produce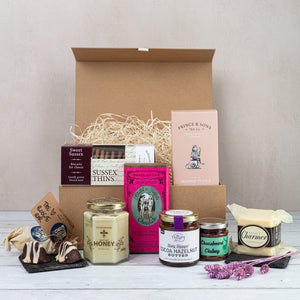 Luxury Gift Hampers
Beautiful gourmet gift hampers, filled with treats from small Sussex businesses, delivered nationwide
Shop Now
Sussex Dairy Cheese Board
Sussex is home to some of the finest cheesemakers in the country - we are proud to carry a selection of cheeses from small, family-run, artisanal dairies, as well as the award-winning South Downs butter and Downsview double cream
Shop Now
Wholesale Eggs
Large organic free-range eggs from an RSPCA-approved higher-welfare Organic Sussex farm.  Hens have hundreds of acres of space in which to roam, unlimited access to outdoor space. We provide wholesale catering and retail eggs.

SHOP NOW
What Customers Say
The delivery service provided by you is fantastic, it's very reliable a reasonable price. As an added bonus they are organic which really means they taste that much better.

Paul Mockford, Lewes
I have just received the most amazing "All the Love" gift hamper from Sussex Eggspress, amazing products, beautifully presented and the attention to detail with the handwritten gift card is simply fantastic.

Absolutely stunning!!

Michelle Collins
The quality of these eggs is so good! For the last two nights, my son has asked for "one of those nice boiled eggs" for tea. 

Indianna Dabson, Brighton
Just received the most generous and wonderful veg box. The children loved naming all the different veg that arrived and it feels great knowing that everything has been sourced locally. Will be ordering on a regular basis from now on.

Natalie Smart, Brighton